Business to Business (B2B) is exploding in the oilpatch. How will geophysicists be affected?
B2B is the buying and selling of raw materials, finished goods, information and services between companies over the Internet. For instance, B2B systems allow firms to electronically purchase everything from pencils and paper to seismic lines and drill rigs, then produce and market their products around the world via the worldwide web.
More importantly to the geophysicist, B2B will soon allow the convergence of data, software systems and seismic interpretation on a scale and speed that was unthinkable even a few years ago. "Bandwidth was a problem, especially for 3D graphics," says Maggie Montaigne, a program director at Landmark Graphics. "Now, it's no longer a problem."
Virtual Marketplaces
The electronic marketplace is divided up into a broad range of services, from simple, passive websites to immense virtual marketplaces encompassing thousands of buyers, sellers and intermediaries. "There have been a 100 oil and gas portals launched since January," says Montaigne, who is currently involved in a joint venture to create a new Internet service for Landmark. "It's tough to know who is going to make it, and who is not."
The potential rewards for the survivors are high. "The energy business in Canada has annual gross revenues in excess of $30 billion," says Brad Gaulin, president of e-Energy, a Calgary-based virtual marketplace for the petroleum industry. "By adopting ecommerce, it could drive bottom line savings in the magnitude of $1.8 to $3.4 billion per year."
Over the last two years, the majority of the oilpatch interest in B2B has focused on e-procurement and the creation of virtual marketplaces, two areas where cost savings are perceived to be highest.
Most of the largest international oil firms, including BP Amoco, Shell and Texaco, are in the process of creating their own virtual marketplaces in order to leverage the buying clout that each one of these behemoths command in the industry. Chevron and Texaco, for instance, teamed up with Ariba software, KPMG consultants and Crosspoint Venture Partners to create PetroCosm.com (www.petrocosm.com), a full, internet-based digital marketplace.
PetroCosm's secure site, which went online in July, features a broad range of services, including catalogues with millions of items for sale, auctions, strategic sourcing and electronic payment. "Participants can broadly share in the economies of scale, market efficiencies and equity created by Petrocosm," notes Don Paul, vice president, technology, for Chevron, on the web-site.
Costs for using the web site will vary, depending on accessed features. "As far as geophysicists are concerned, we will offer exploration and production project management, and we'll migrate into community forums for geophysicists," says Alexandra Pruner, vice president of marketing.
Several other prominent, independent portals have also sprung up to offer smaller oil companies the advantages-of-scale that their larger brethren enjoy.
NetworkOil.com, a Houston-based company, is a virtual Internet portal aimed at smaller petroleum companies (www.networkoil.com). "We are focused on the independent (oil) marketplace," says Bob Vargo, a business development associate at NetworkOil's Calgary office. "We are not one-to-many, we're many-to-many."
The service was launched in mid-March in the US and in June in Canada. Since then, more than 30 independent O&G companies representing $11 billion in annual capital expenditures have taken an equity stake in the company, including Unocal Corporation, Burlington Resources and Ocean Energy. In addition, over 170 oil companies and 240 service companies have registered on NetworkOil.
According to Vargo, NetworkOil's electronic exchange provides a secure, neutral forum for conducting a variety of transactions, including requests for bid, auctions and reverse auctions. "We push liquid, neutral and dynamic pricing," he explains. "We have straightforward requests for bids, and we can also dynamically price through reverse auctions (where the financial and contract details are anonymously posted)."
So far, NetworkOil has concentrated on buy-and-sell services for items that are easy to spec, such as tubular products, wellheads and artificial lift equipment, but auctions are also proving popular. "We've had one auction for $1/2 million in equipment in the States, and we're gong to hold a second auction that will include some equipment from Canada."
Security is uppermost in clients' minds. "The site is routed through secured socket layer encryption, the same as used in the banking industry," says Vargo. "Users can decide which suppliers they want. They can list a handful of pre-qualified suppliers. We are working with credit rating companies, such as Dunn & Bradstreet."
Fees for the service are based entirely on commission on successful transactions (commissions are in the 1% range). "There are no ads or membership fees," says Vargo. "There are no software license fees, you don't have to buy a package from Ariba. You only need an Internet connection. You can do it from your office, or home."
As a new service, NetworkOil has added an ask-the-experts forum. "You have the ability to query experts through our hosted forum," says Vargo. "You can ask questions and receive feedback from over 150 engineers, geologists and geophysicists."
E-Energy (www.mye-energy.com) is another neutral-site, virtual marketplace targeted at the oil and gas sector. The Calgary-based service, which went online in June, features links to a wide range of information, products and services. "We're a personalized Internet desktop for oil and gas," says Gaulin. "We navigate for news, for instance. "We link to Nickle's Daily Oil Bulletin, the Oil & Gas Journal and Hart publications. You can personalize your desktop using our myhomepage tool."
So far, the site has proven to be very popular. "We've had 90,000 hits per week, so the traffic has been amazing," says Gaulin.
The site offers many services for the geoscientist. "We have exploration tools, like StrataWeb," says Gaulin. "You can access tool sets for the geologist, geophysicist, engineer and financial guys. There are brokers for seismic, even locations of seismic crews. There are lots of tools that people don't realize are out there. We find and link them for you."
E-energy also claims to be the first wireless desktop in the oil and gas industry. "Let's say you're in the field, and need to contact the operations manager at the Judy Creek gas plant," says Gaulin. "Using a CDPD modem for your Palm Pilot, you can access the Internet and our wireless application protocol (WAP) website, and get the e-mail or phone number."
While their service is free to browse, e-Energy will generate funds through value-added information "E-Energy has three streams of revenue; contacts, advertising and consulting services," says Gaulin.
Geophysical Sites
The websites that will affect the geophysical profession directly are just emerging. Targeted at the upstream sector of the O&G industry, they promise to increase the efficiency of the geoscientist by not only providing instant access to immense databases anytime and anywhere in the world, but to re-arrange the way that their work is carried out.
At the recent World Petroleum Congress held in Calgary, Landmark Graphics president John Gibson gave a presentation on the future of data management in the E&P industry that points the way toward how geoscientists will benefit from the B2B revolution, and how their professions will evolve.
Thanks to a combination of mega-mergers, global expansion, new sources of data and continuous pressure to lower costs, Gibson foresees that the oil company of tomorrow will move to strip away non-core competencies and concentrate on what it does best.
Using the Internet, an exploration company, for instance, could connect up to a hardware service provider (HSP) to handle all its computer needs; a data service provider (DSP) to store its geological and geophysical information; an application service provider (ASP) to manage the data, and a knowledge service provider (KSP) to interpret the data.
Kelman Seismic Processing, in Calgary, already offers several aspects of this new Internet services concept to oil company geoscientists, including DSP. "We supply the application for the management of data," says Bill Leakey, chief architect at Kelman Archives. "It (keeping data-management in-house) adds no value to the equation of finding oil and gas."
Leakey admits that, in spite of the fact that effective data management solutions have been devised, a drawback remains; many potential clients still have concerns for security and confidentiality "Clients have to feel confident."
Regardless, Kelman predicts that oil companies will get over their reservations, and is expanding its Internet services. "We are going to become more of a geo-service company and offer applications as an Application Service Provider," says Leakey. "Clients will be able to store, process and get interpretation."
The company is also exploring opportunities for internet-based research and development. "There's been a downsizing of geophysical R&D in the major oil companies, and there's a lot of discussion of late about where geophysical R&D is going to be done," says Rob Vestrum, manager of R&D for Kelman. "It's a golden opportunity for us. I'm not sure how it will be done, but a lot of it will be internet-based."
Another form of website portal, epitomized by Schlumberger's IndigoPool.com (www.indigopool.com), will revolutionize the way that geoscientists evaluate properties and licenses.
Launched in February, IndigoPool is specifically designed for the acquisition and divestiture process in the upstream O&G industry. The brainchild of Schlumberger, the virtual marketplace not only allows oil companies to register properties for sale, but also to evaluate their potential through a sophisticated suite of geological, geophysical and economic software tools.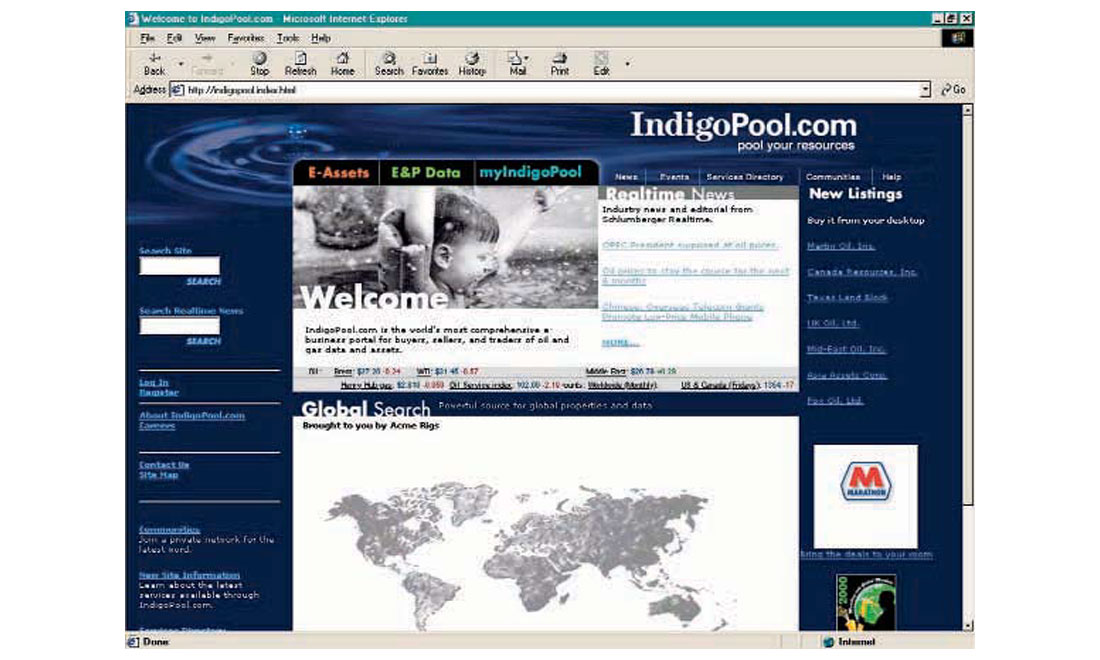 The system has three levels of service. Level 1 is an electronic listing service, in which oil companies can post basic details of properties for sale. "We set up a level 1 site for BP Amoco in Houston in order to divest Gulf of Mexico deepwater, and it went live on February first," says Demetrios Stellas, operations manager for IndigoPool.com.
Level 2, released in July, is an interactive "digital data book" where buyers can run interactive models on a property using economic modeling tools from Merak. "It will be a more extensive data model involving a specialized version of Peep," says Dan Magyar, manager of business development for IndigoPool.
Level 3, is a 'virtual data room', designed to allow customers to evaluate the entire suite of technical data available for a property from their home base. They can also view the information at one of Schlumberger's virtual interpretation centres, including Calgary's, using GeoQuest tools. "The data room offering is earmarked for late 2000," notes Magyar.
Security of confidential data is a priority at IndigoPool.com. Schlumberger has developed seven different levels of access to the information, depending on the complexity and confidentiality of the data.
Because many of the transactions best suited to the service easily surpass $100 million in value, the price to use IndigoPool.com will vary. "Costs will be based on GeoQuest and Merak business models," says Stellas.
At Halliburton, a joint venture between Science Applications International Corp. (SAIC), and Landmark Graphics Group will take the concept of the virtual exploration department one step further. The trio have collaborated on a knowledge service (KSP) portal that unites geophysicists, geoscientists and petroleum engineers with E&P companies worldwide in a completely open environment.
Although the venture has been planned for the last five years, it wasn't until recently that customer demand reached a sufficient level to warrant the investment in time and money. "Companies in the energy industry aren't necessarily early adopters of new technologies," says Montaigne. "Now, it's like a gold rush."
The joint venture KSP has taken 30 researchers nine months and over $1 million in investment. "Development should be completed in late 2000, and we hope to have it up and running by Q2 2001," says Montaigne.
According to Montaigne, the new unnamed site will alter work-flow patterns and the way information about a particular development site is bundled, tracked and stored, thus saving time and cost to the company. "It will also make it easier for the geoscientist to do their job." says Montaigne. "The data, applications and interpretations reside in one spot, and are instantly accessible anywhere, anytime."
Landmark hopes that the service will appeal to potential clients on a number of business levels. "Remote locations don't need infrastructure," says Montaigne. "You lower IT costs and free the company from a geographical location. It will also reduce time to first production (which lowers costs of borrowing capital and increases cash flow)."
The site will also allow companies to out-source non-essential functions. "A smaller independent might not want to have their own IT department," says Montaigne. "You can ex-source your IT infrastructure — it won't be necessary. It allows a company to focus on core competencies."
Even functions that have traditionally been thought of as essential may come under review. "A company may ask, "Is my core competency in exploration or production?" You can even out-source your geoscientists."
The question then arises, if even the exploration department in an oil company is no longer sacred, how will KSPs affect the geophysical profession over the next decade?
"It will not result in a reduction of job positions," maintains Montaigne, herself a geologist. "There will still be a need for knowledge to find and produce the assets."
In fact, says Montaigne, the move to KSPs may have a beneficial effect. "The average age of geoscientists in the industry is around 47. We're going to lose a lot of knowledge through retirement in a few years, and there may not be enough expert people to do the work. The KSP will be 25% cheaper for the company, but it will be at least 25% more efficient."
Geophysicists may find that life-long employment opportunities with major corporations, already an endangered species, may get even rarer. "There is a question over whether they will remain affiliated with a company, or go off and be a virtual company themselves," says Montaigne.

About the Author(s)
Gordon Cope has spent many years working in the O&G industry, first as a geologist, then as a business reporter covering the sector for the Calgary Herald. He currently manages his own communications company.