Natural gas has been the primary driver in Alberta's growth over the past fifteen years. The graph shows the trend in Canadian marketed gas production (Bcf/d) since 1947 (CAPP Data). The red area shows the gas production from the Western Canada Sedimentary Basin (WCSB) while gas production from Eastern Canada is shown in pink. Even today with production of gas from Sable Island,the WCSB produces 97% of all Canadian gas; Alberta contributes nearly 80% of that supply.
Some of the key dates in the development of Canada's natural gas industry are listed below (a more complete chronology and extensive bibliography can be found on Geo-Help's web site: www.geohelp.ab.ca).
Notice the length of time it has taken to bring frontier gas discoveries to market and that our forays into unconventional gas are very recent. Also, according to the AEUB, Alberta's remaining reserves peaked in 1982 and yet our production peaked in 2001. A detailed understanding of the history of our industry provides insights to better predict future trends.
1859 – Natural gas discovered in New Brunswick – flared as a waste product.
1883 – First gas found in Alberta – at Langevin, near Medicine Hat – while drilling a water well for the CPR!
1889 – Eugene Coste drilled in Essex County, Ontario for natural gas to supply nearby communities.
1901 – First commercial gas field developed at Medicine Hat.
1907 – Rudyard Kipling visited Medicine Hat and described it as having "all hell for a basement".
1909 – "Old Glory" well drilled at Bow Island – largest gas well to that time in Canada. Drilled by the CPR – reportedly on the wrong location.
1912 – Gas pipeline built from Bow Island to Calgary (275 Km) by Canadian Western Natural Gas.
1914 – First discovery of Gas-condensate reservoir at Turner Valley (from Cretaceous) – Dingman #1.
1923 – Edmonton converted to Natural gas.
1924 – Gas condensate reservoir discovered in Mississippian at Turner Valley.
1930 – Bow Island field exhausted having produced 336 Bcf into the Calgary market.
1938 – Alberta Petroleum and Natural Gas Conservation Board formed by Social Credit Government – significantly reduced flaring of natural gas as a by-product of oil production.
1944 – Jumping Pound Discovered by Shell – first efforts to recover sulphur from sour gas.
1957 – First gas exported by Westcoast Transmission Company via Vancouver to US markets.
1957 – First gas exported to Eastern Canada by TransCanada Pipelines.
1967 – Sable Island gas discovered by Shell.
1969 – First drilling by Panarctic resulted in the discovery of Drake Point gas field (nearly 6Tcf), Melville Island in Canadian Arctic.
1972 – Parsons Lake discovered by Gulf Canada in McKenzie Delta (1.8 Tcf).
1976 – Discovery of Elmworth and concept of Deep Basin Gas by Masters and Gray of Canadian Hunter.
1982 – Amoco Dome Brazeau 13-12-48-12W5 blew out creating a stink across the Province of Alberta.
1982 – Pre-build section of Alaska Pipeline opened.
1982 – Alberta's remaining natural gas reserves peaked at 65Tcf.
1985 – Western Accord by Brian Mulroney's Conservative Government started process of Deregulation of the Oil Industry.
1986 – Discovery of Caroline Swan Hills Field by Shell.
1995 – Alberta's Energy Resources Conservation Board (ERCB) changed name to Energy Utilities Board (EUB).
1999-2000 – Ladyfern Slave Point Field discovered by Apache, Murphy and Beau Canada.
2000 – First gas production from Sable Island – First Canadian offshore gas development.
2000 – First shipment of gas on Alliance Pipeline.
2000 – (December 11th) Spot price for Alberta gas closed at a record $16.95 (Cdn) per gigajoule.
2001 – Alberta gas production peaked at 14Bcf/day marketable gas.
2002 – (January) Experimental gas hydrate project at Malik in the McKenzie Delta by an industry/government consortium.
2002 – (August) Encana announces plans for the first commercial Coalbed Methane project in Canada.
2003 – (Aug) Access Northeast Energy Inc announced plans to build an LNG terminal at Bear Head, Nova Scotia.
2003 – (Sept 1) 337gas wells (about 100MMcf/d) in the Fort McMurray area shut-in by the AEUB to preserve reservoir pressure for future bitumen extraction.
In 2003 a record number of gas wells were drilled in Canada, however it appears that this activity is still insufficient to sustain current levels of production. We live in a world of 'just in time' delivery but are we doing enough to 'deliver' in the future?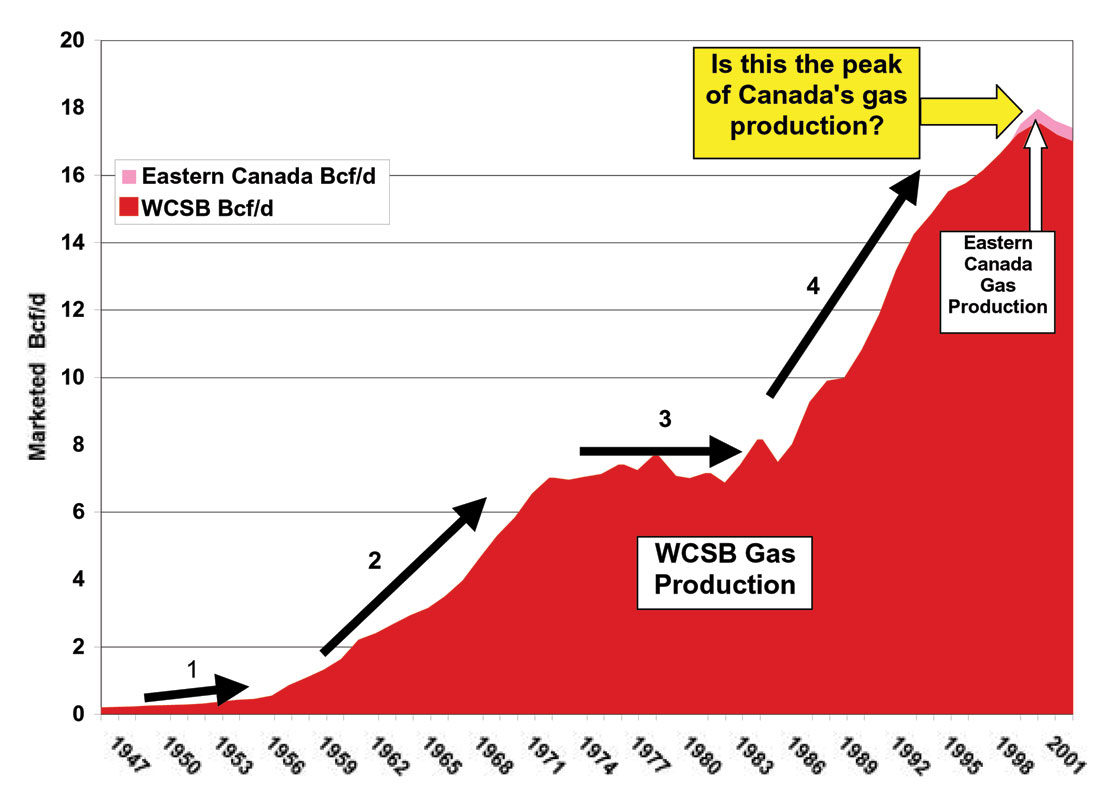 The views expressed in this article are strictly the views of the author (email: dave@geohelp.ab.ca).