With summer well on its way, it's time to dig out those dusty (and possibly neglected) running shoes and get ready to join us for the 17th annual CSPG-CSEG 10km Roadrace and FUN RUN! Last year we set a record with over 170 entrants, and this year we are hoping to increase participation even more. The event features a 10km run followed by a post-race social, with pizza and refreshments as the main attraction. This year's race shirts are going to be technical running shirts, and they will be given out to all runners. Entrants registering before July 31st, 2005 will also receive other early bird goodies, so register early and start getting in those training miles.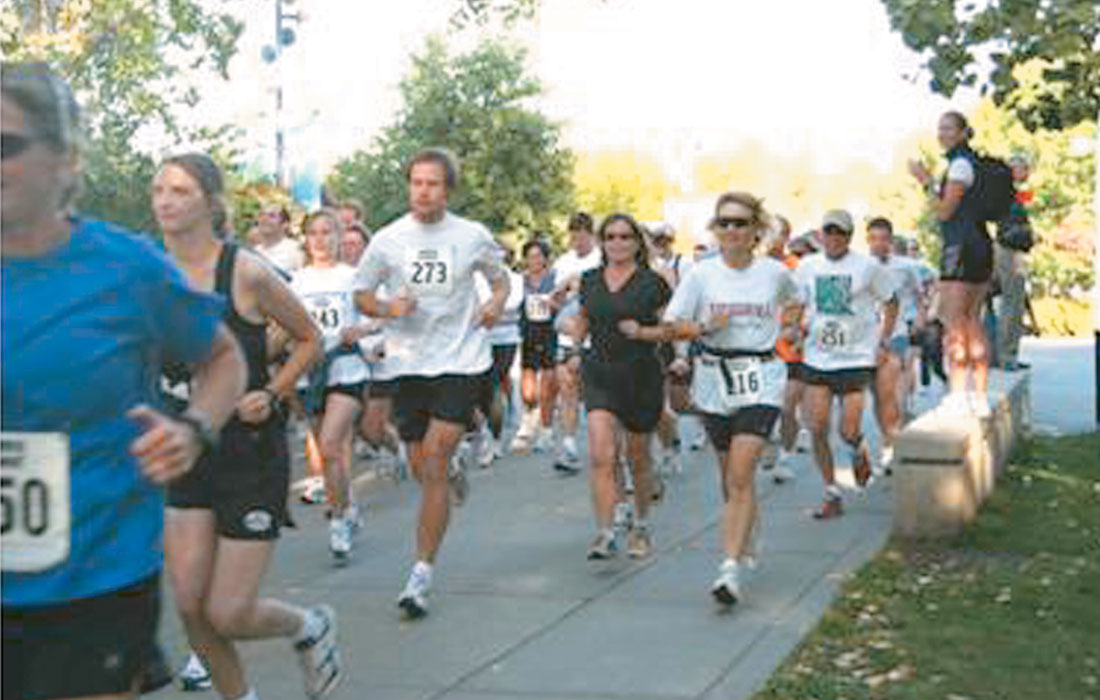 The run will take place on Wednesday, September 14, 2005 beginning at 6:00pm at the Eau Claire YMCA. The route will take you on a pleasant, scenic tour along the beautiful Bow River pathways, finishing back at the Eau Claire YMCA. Following the race, all racers, volunteers, and guests are invited to gather at Quincy's for awards, draw prizes, refreshments, and the telling of stories and/or lies.
The race is open to all members of the CSPG, CSEG, CAPL, and the general public. It is a good way to get out and meet with old friends, as well as make new ones within the industry. Whether you're a seasoned runner, or someone just looking to come out and participate, this event has something for everyone.
Gord Hobbins of Gord's Running Store has developed a 10km race training guide for to help runners get ready for a 10km race. Try it out and benefit from some expert advice; you may be surprised how easy it can be to gently get yourself in condition for your first race.
Guidance/Tips for novice runners:
Run for short durations between 3 and 5 times per week according to schedule, with your long run days being the key to your training program.
If your running shoes are giving you some problems, get some which fit and match your gait.
Guide allows for a gradual increase to a comfortable load; your legs may need some conditioning at first.
Yes, times are in minutes. The secret is to be regular and not beat yourself up.
Wear a hat and cool shades. Keep well hydrated. It really helps.
Gently stretch those calves and quads afterwards.
Take along a friend and convince them to sign up for the CSPG or CSEG and the Roadrace as well.
There are many running/training groups in town if interested in more.
Many thanks go out to our generous sponsors and volunteers who make this event possible each year!
We hope to see you there!
Gord's 12 Week Training Guide for Runners
| Week | Mon | Tue | Wed | Thu | Fri | Sat | Sun |
| --- | --- | --- | --- | --- | --- | --- | --- |
| June 27–July 3 | – | 10-15 min | – | 10-15 min | – | – | 15 min |
| July4-10 | – | 10-15 min | – | 10-15 min | – | – | 20 min |
| July 11-17 | – | 10-20 min | 0-10 min | 10-20 min | – | – | 25 min |
| July 18-24 | – | 10-20 min | 0-10 min | 10-20 min | – | – | 30 min |
| July 25-31 | – | 10-20 min | 0-10 min | 10-20 min | 0-10 min | – | 25 min |
| Aug 1-7 | – | 10-20 min | 0-10 min | 10-20 min | 0-10 min | – | 35 min |
| Aug 8-14 | – | 15-25 min | 0-10 min | 15-20 min | 0-10 min | – | 25 min |
| Aug 15-21 | – | 15-25 min | 0-10 min | 15-20 min | 0-10 min | – | 40 min |
| Aug 22-28 | – | 15-25 min | 0-10 min | 15-25 min | 0-10 min | – | 25 min |
| Aug 29–Sep 10 | – | 15-25 min | 0-10 min | 15-25 min | 0-10 min | – | 45 min |
| Sep 5-11 | – | 20-30 min | 0-10 min | 15-25 min | 0-10 min | – | 25 min |
| Sep 5-11 | – | Rest | 10 KM RUN | | | – | |